Scotland became the first country in the world to introduce a minimum pricing on alcohol today. The move sees the introduction of a minimum charge of 50p per unit of alcohol on the retail sale value of alcoholic drinks.
Nearly twice the amount of people die from alcohol-related illnesses in Scotland than in the rest of the UK each year.
The move has started a lot of debate on whether this is just a tax on the poor, and that those that are dependent or addicted on low incomes will stay pay for it, meaning they will have less money to spend elsewhere.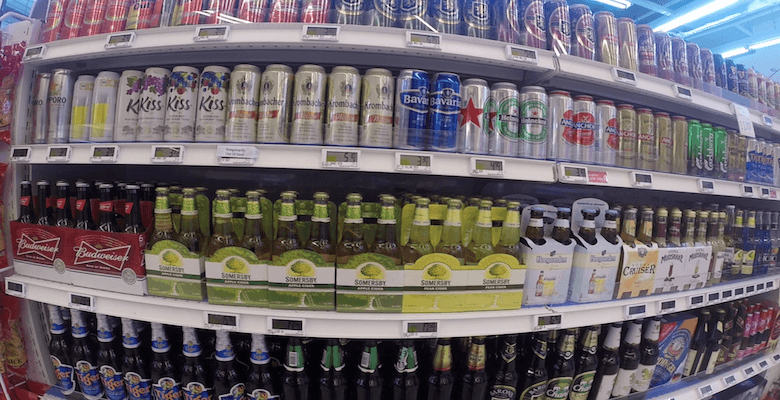 Scottish Ministers said the idea was to target booze that attracted problem drinkers. They were concerned that a two-litre bottle of strong cider (7.5 abv), which contained more than the weekly recommended limit for alcohol (14 units), could be bought for as little as £2.50. It will now cost at least £7.50.
The move also means that a standard 750ml 13% bottle of wine cannot be sold for less than £4.88, a 700ml 40% bottle of whisky for £14 and two litres of 5% cider for £5.
The aim is to make it more difficult for people to buy cheap alcohol, such as super strength ciders, which studies claim cause the most harm.
Today, Scotland becomes the first country in the world to implement minimum unit pricing in an attempt to reduce the significant harm of strong, low cost alcohol. Thanks to all those who have stuck with us through the challenges. This public health policy will save lives.

— Nicola Sturgeon (@NicolaSturgeon) May 1, 2018
First Minister Nicola Sturgeon told Sky News the new law should save lives.
"Over the first five years of this policy the estimate is that several hundred fewer deaths from alcohol will be recorded and we will reduce admissions to hospital," she said.
"These are statistics, but every single one of these statistics is a human being, with a family, with friends, with a life and if we can save these lives this is a policy definitely worth pursuing."